Handball is a hidden gem in the Scottish Sporting landscape
Internationally, handball is one of the most popular team sports with 27 million registered players (approx.). The Men's Handball Euro 2020 Championship was watched by an audience of 1.1bn globally. 
The game is fast, action packed, high scoring and a great workout for the mind and body. It is also fantastic for teaching children physical literacy. As catching, running, throwing and jumping are the essence of the game, it is perfect for teaching key physical skills. It is also brilliantly accessible and with limited equipment needed, easy to set up and  go!
At the SHA, we believe handball has a exciting future in Scotland, and is a sport which could become a core team sport offering at a Primary and Secondary school level. After the COVID-19 pandemic our sport has grown leaps and bounds in the education sector. Due the incredible demand, we have upskilled over 2,800 Scottish student sports leaders and teachers with the basics of handball across 2021, 2022 & 2023. From this we expect the participation in our School National and Regional Competitions to increase dramatically. 
Furthermore we have been working hard to increase our digital presence. We now have an organic following of over 3.7k (mainly 18-25 year olds) and our content is regularly shared by large international sporting bodies of over 40k followers.
We Need You!
If you are interested in partnering with us on one of our events please email office@scottishhandball.com and we can share our range of sponsorship packages. 
Key Events: 

Primary & Secondary National Finals 
Following Regional Qualifiers, we host a range of Primary and Secondary School National Finals annually at Ravenscraig Regional Sports Centre. Across the competitions we expect around 30 schools and approx. 400 children to attend. These competitions encourage children to stay healthy by taking part in physical activity and having fun along the way! 
Men's & Women's Senior teams as well as Junior teams from across Scotland come together to compete in the annual Scottish Handball Cup Competition. The Scottish Cup Finals will be in May 2024. This event will be hosted at our partner venue Oriam, Scotland's Sports Performace Centre and can attract crowds of up to 500. Click here for more info.
British Handball Super Cup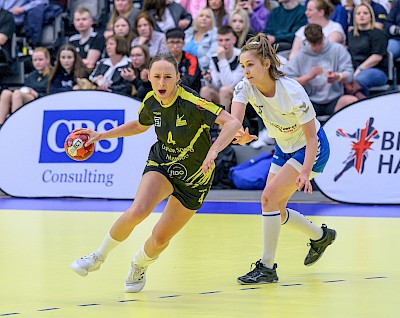 The Super Cup is a two-day event which showcases the best of the handball in the UK. In conjunction with the British Handball Association, Oriam, Scotland's Sports Performance Centre, will host the spectaculor event next year!
The top two placed male teams and the top two female teams from the Scottish National Handball Leagues and English Premier Leagues compete for the title of British Champions. The top three placed teams from the Super Cup event will also earn themselves a spot in the EHF European Cup. The 2024 Super Cup will be held in May 2024 with the potential of being streamed on BBC Sport and Catch up on BBC iPlayer. Click here for more info. 
Scottish Handball Cooper-Neilson Awards 2023 
A night of celebration as we look to recognise the past season's achievements and commitment from our fantastic volunteers. This event will be held in October 2023. 
                     Email us office@scottishhandball.com for info on sponsorship packages