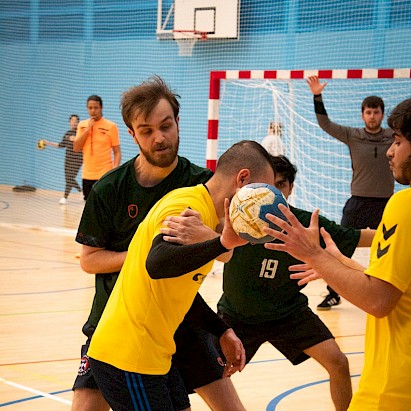 In Scotland's Performance Sport Centre at the Oriam, on 20th March 2022, spectators were treated to an exhibition of the best of Scottish Student Handball during this year's Scottish Student Handball League Finals day.
This event pitches the teams who finish in the top 4 of the League against each other to crown the ultimate Scottish Student Handball Champions.
The semi-final fixtures produced 4 excellent showcases of student handball and provided further evidence for the sport's growth in popularity over recent years. The day was begun with a University of Glasgow Women showing their class against a competitive Dundee side, finishing in 20-8 to Glasgow. We also saw the 5-year unbeaten Men's University of Strathclyde team continue in good form, besting the Heriot Watt University Men's team 12-12, and continuing their journey to the Final.
The Women's Final saw University of Glasgow complete a clean sweep in their domestic league, remaining undefeated as they saw off a valiant effort from cross-city rivals, University of Strathclyde, in the final. Anja Kristensen was named Most Valuable Player of the match for her contributions in that excellent match.
The Men's Final proved a tense and hotly-contested affair, with both sides showing their mettle. As the clock ran down it appeared as though Edinburgh's new men's team would see off Strathclyde in normal time, but a spirited comeback saw Strathclyde take the game to penalties. In the end, it wasn't to be for the men in maroon as the University of Edinburgh kept their nerve and claimed the Scottish Student Handball title in their inaugural season, breaking Strathclyde's unbeaten record. Congratulations to Thomas Huesby who was recognised as the Most Valuable Player.
The final standings were as follows:
Men:
1st – University of Edinburgh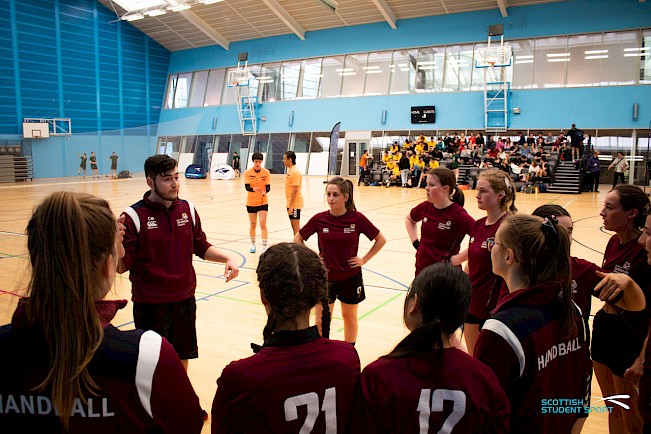 2nd – University of Strathclyde
3rd – Herriot-Watt University
4th – University of Glasgow
Women:
1st – University of Glasgow
2nd – University of Strathclyde
3rd – University of Dundee
4th – University of Edinburgh
Thank you to all the teams, the Scottish Student Handball Volunteers, Scottish Handball Association, the referees, Oriam and of course the fantastic supporters who came along to cheer on the teams. Well done and congratulations to the deserving winners University of Glasgow and the University of Edinburgh!
Full results can be found on our website HERE. Photos can be found HERE
- Story by, Ina Milne, Scottish Student Handball