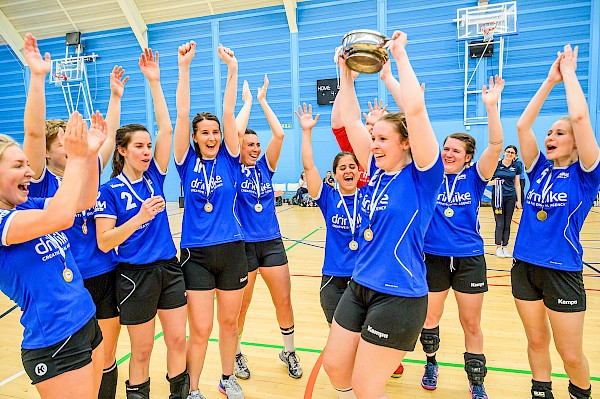 The Scottish Handball Association held their Scottish Cup Finals last Saturday 14th of May at Oriam, Scotland's Sports Performance Centre in Edinburgh. As this was the first Cup Finals day since 2019, there were many new faces in attendance hoping for a Scottish Cup victory. The SHA Scottish Cup Finals Day 2022 consisted of four age group competitions as well as a Senior Men's & Senior Women's Final.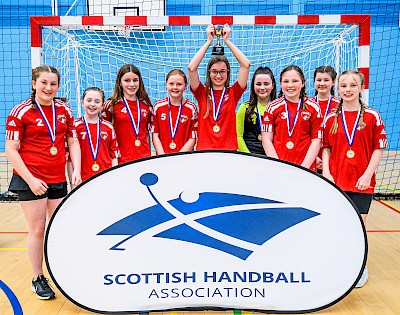 EK82 HC | 2008/2009 Girls Scottish Cup Champions
An impressive last minute goal from number 4 made the difference in EK82's first match against Kelvinside HC. This was followed by a close game between previous match victors, EK82 and a strong Tryst 77 side, with the former taking the Scottish Cup title only by a difference of one goal.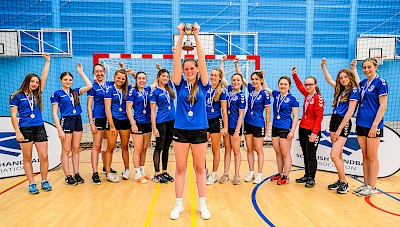 Kelvinside HC | 2006/2007 Girls Scottish Cup Champions
A storming performance by Kelvinside HC across two matches ensured their title of 2022 Scottish Cup Champions. Tenacity and brilliant skill were displayed by both teams in this final. Special mention to Kelvinside's Captain, number 4, for her impressive number of goals scored.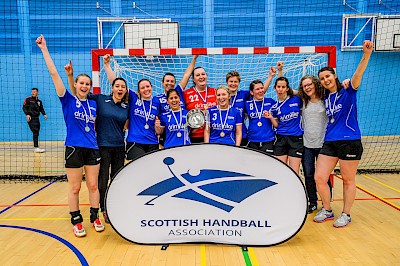 Edinburgh HC | Senior Women's Scottish Cup Champions
A strong performance by the city team proved just too tough a challenge for the young Dundee University team in this year's Women's Scottish Cup Final. Edinburgh HC were sure favourites in this match, having won the SHA Senior Women's League with an unbeaten run this season. Experienced captain Louise Cox Thomsen led her team to victory with a number of spectacular goals. In addition, Dundee also demonstrated skillful play as well as collection of impressive goals by Captain Paulina Chojnacka. No doubt, this was an entertaining display. We look forward to seeing both these teams perform this weekend at the NorDan 2022 British Handball Super Cup.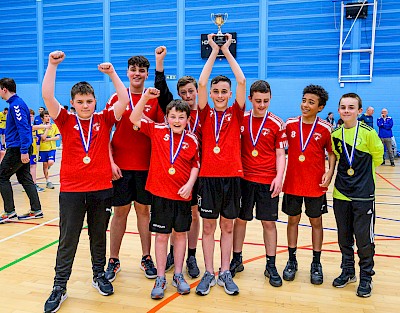 EK82 HC | 2008/2009 Boys Scottish Cup Champions
EK82 went home with heavy pockets last weekend as they also stormed to victory in the Boys 08/09 age category. A nerve-racking tie in the first match saw EK82 & Tryst neck and neck at the first hurdle. However, the boys from East Kilbride went on to claim a closely contested match against a strong Kelvinside team. This left everything to play for in the final match. Kelvinside went on to show a confident performance to defeat Tryst, allowing EK82 to take the title.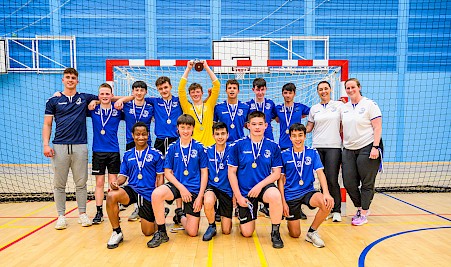 Kelvinside HC | 2006/2007 Boys Scottish Cup Champions
Kelvinside HC claim a clean sweep of the older age categories. Troon HC put on a strong performance to defeat Tryst HC in the first match. Kelvinside followed in a similar suit, playing well to also take the win against Tryst. It all came down to the final match of Troon against Kelvinside for the title. Both teams played well, however it was reigning champions Kelvinside who took home the 06/07 trophy again this year.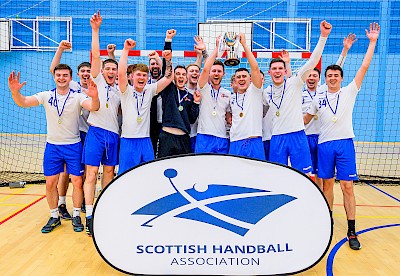 Livingston HC | Senior Men's Cup Champions
Livingston claimed the Double last weekend, after winning the SHA Senior Men's League with an unbeaten season. The game started off very close, with both teams often equalising in quick succession. Half-time score 13-10 to Livingston. Despite a strong start for both teams, the young Livingston team took a greater lead in the second half, with the score finishing 26-17. A fantastic display of handball to finish off the day.
We will be hosting the NorDan 2022 British Handball Super Cup this weekend, Saturday 21st & Sunday 22nd of May at Oriam, Scotland's Sports Performance Centre in Edinburgh. This Cup will see the top four men's and women's teams from Scotland and England battling it out for the title of British Champions, and European club competition qualification. Scottish men's teams include EK82, Livingston, whilst Dundee University and Edinburgh HC will be playing in the women's competition.
Tickets available here: https://handball.scot/nordan-2022-british-handball-super-cup/