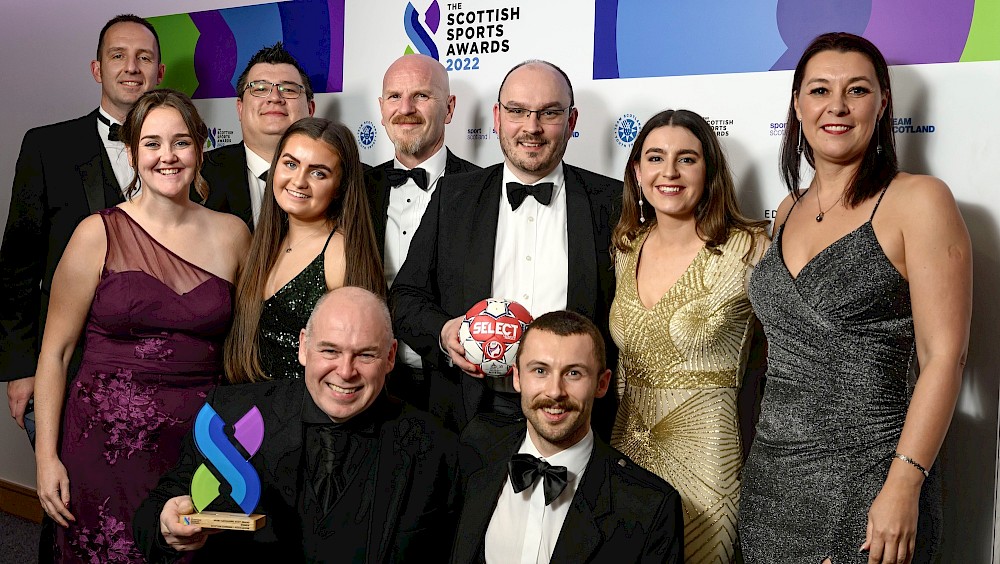 On Wednesday night (7th December) at the Scottish Sports Awards the Scottish Handball Association were delighted to be named Sports Governing Body of the Year 2022.
This caps a momentous year for Scottish Handball, and one that has seen some huge progress being made. In May, we hosted the revamped and renamed NorDan UK British Handball Super Cup in which the top 2 teams from England (men's and women's) play against the top two teams from Scotland. The event itself was a huge success, and we were able to attract over 10,000 viewers to our online and media coverage. We hosted the event with our partners, Oriam, at Scotland's Performance Sports Centre, and were delighted to have secured the support of BBC Sport Scotland to provide coverage of the event. In addition, we were delighted to win the support of our main sponsors – our headline sponsor NorDan UK – as well as CBS Consulting, Murgitroyd and Consilium.
None of this would have been possible without the continued support of our own backers – SportScotland, the EHF (European Handball Federation) and IHF (International Handball Federation) - as well as our partners; significantly QTV for broadcast media support, FN Teamwear for apparel and FanBase for the mobile ticketing and technical support.

In our day-to-day operations, we have continued to see Handball grow significantly amongst our target groups of young people right across Scotland. We have trained over 600 coaches, and directly and indirectly reached many thousands of young people in the last year too. We have also re-established our National Academy to help provide a pathway for our young athletes to progress and gain international handball experience. This is leading to opportunities for progression and development within our sport at an unprecedented level.

To underpin all of this, we have also recently nearly doubled our professional team with the addition of two new members of staff. None of this would have been possible without the outstanding support and belief in our vision provided by SportScotland, the EHF and IHF in particular. This was underlined by the signing of our historic Master Plan Agreement with the EHF in October this year.

Acting COO, Ewan Hunter, said:
"This award is for everyone involved in the Handball family across Scotland. So many people have given so much to help get us here, and this is entirely for them. This truly is a team effort. Whilst this was wholly unexpected, it just underlines how much support is out there for organisations who are committed to grass-roots focus and growing sport in this way.
We believe in cooperating with other sports too, and our growth strategy will see us engage even more with other sporting partners, active Schools and local authorities across the spectrum. We want to see Handball sit at the heart of our sporting curriculum and believe we have so much to offer the people of Scotland. Handball is an enormously accessible, Olympic sport; and is hugely popular across the European mainland in particular. We see no reason whatsoever why Scotland can't be a world-class Handball nation in due course.
In this, our 50th anniversary year, this just caps off what was already a very special year. We are humbled by this recognition from our peers and the judging panel and are committed to bringing our vision to life. 2022 has been a brilliant year – one we are aiming to emulate, or even top, in 2023."

SHA Chair, Iain McKinven, said:
"To have been given such recognition by the Team Scotland judging panel – with support from SportScotland – is very special for everyone involved in Handball across Scotland. As a Board, we have been fortunate to have been able to engage the support of outstanding colleagues, each of whom has brought something important to the table. It's also worth highlighting the brilliant support we've had from our SportScotland Partnership Manager, Barry Cook. To have received this award was truly amazing and humbling for us all; but something that simply encourages us to keep working even harder to help support the team in realising our collective vision for Handball to become a key sport within the Scottish sporting firmament."