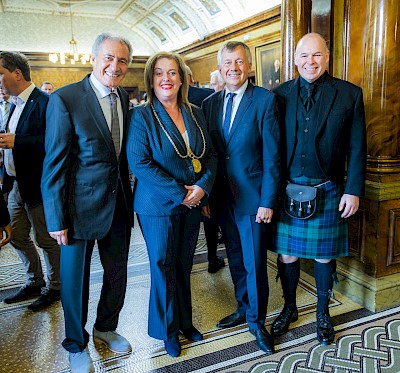 The Scottish Handball Association announces that our current Chief Operating Officer, Stephen Neilson, has resigned and will leave the organisation with effect 30/10.
Stevie has led the SHA with distinction for 23 years, and is now leaving to concentrate on other professional commitments. He departs with best wishes and much gratitude from the SHA Board for his peerless contribution, and no doubt also from the wider Scottish, UK, European and World Handball families – in which he has been a leading figure for four decades.
We are delighted to confirm that Ewan Hunter, currently SHA Non-Exec Commercial Director, has agreed to accept the role of acting COO on an interim basis with effect from 31/10. Through his work with the Board - in which he led the effort to secure unprecedented levels of external sponsorship and media coverage - Ewan has developed a deep understanding of the challenges and opportunities facing Scottish Handball at this key time in our growth. Ewan is well-known to our membership, having been involved in the game for many years, and has a network across British and European Handball. In addition, Ewan also brings experience of having run commercial businesses, working with leading organisations of all sizes, and deep professional expertise in HR and Strategy Execution.
In due course, the SHA Board will announce the open and transparent recruitment process through which a permanent appointment to the post of COO will be made. In the meantime, we are confident that securing Ewan's help as Acting COO is the best way to ensure that the unparalleled momentum built up by Stevie will continue to grow unabated during this critical period for the future of Scottish Handball.