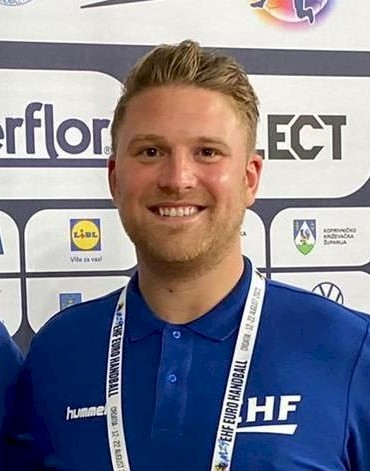 We are delighted to announce that Scottish and GB seasoned EHF referee Brian Bartlett has been appointed as the Head of Refereeing for the Scottish Handball Association.
Brian started his handball journey at school, before progressing into representing the Scotland and Great Britain men's teams, as well as representing Tryst '77 HC in the EHF European Cup. He made his Great Britain men's team debut in 2003 at the age of 16, before moving to Denmark in 2006 as part of the UK Sport funded World Class Handball Programme, where he played for teams such as GOG and Brabrand IF.

Brian's refereeing career started in 2009, gaining European Handball Federation (EHF) and International Handball Federation (IHF) accreditation in 2011. Since then, he has refereed 3 Youth World Championships, 3 Youth European Championships and 1 Olympic Games, officiating a number of semi-final matches. He is now in his 12th season as an EHF referee, having overseen just under 100 international/European matches.
Head of Refereeing, Brian Bartlett, said;
This experience and education provide me with the skills and tools to equip me personally and professionally. I am excited by the opportunity to become the Head of Refereeing for the Scottish Handball Association, specifically working with referees to develop their experience and education to ultimately raise the level of officiating in our great sport
Stevie Neilson, Chief Operating Officer SHA, said;
We are delighted that Brian has decided to join the Association to support and develop referees. He has an immense amount of knowledge and experience, and we are incredibly excited to have him on board
If you have any questions regarding getting involved as an SHA Referee or joining the Referee Academy please get in touch with Brian: Brian.Bartlett@scottishhandball.com