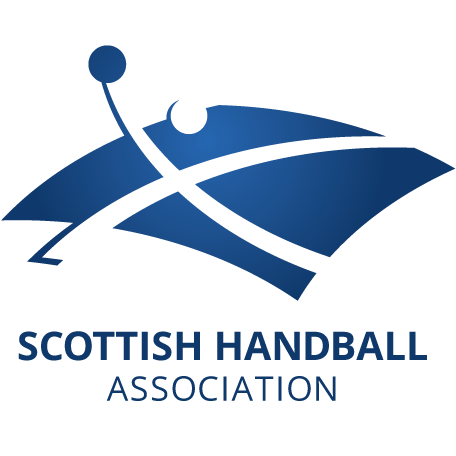 Phase 3 Handball Guidelines - Update 31st July 2020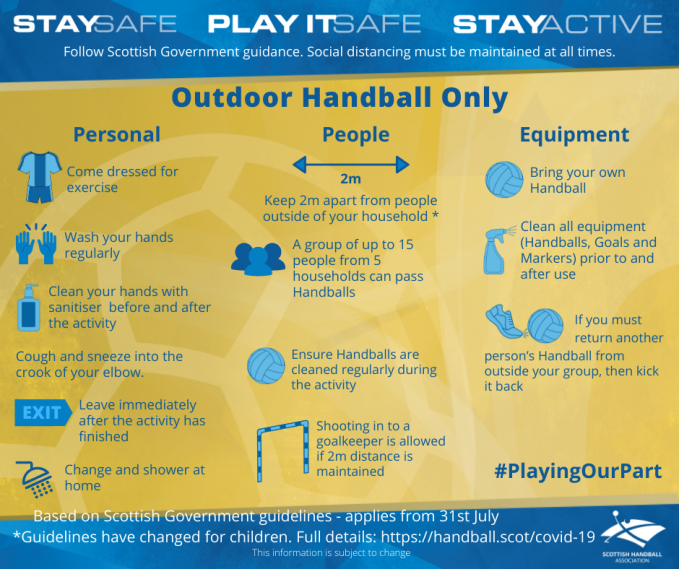 This is for the extension of Scottish Government exercise guidelines but not a return to Handball. The updated Scottish government advice means from 30/07/2020 it is possible for outdoor recreational Handball related drills to take place using your own equipment with group of up to 15 people from 5 households .  For Children U18 there are different guidelines for this age group detailed in the document.  This must be in line with the Scottish Government public health guidelines.  
Handball Outdoor Activity for Adults
A group of players up to 15 people from 5 households can meet
Social distancing must always be maintained
You must bring your own Handball
You can pass Handballs within the group
You can shoot into a goalkeeper if 2m distance is maintained
Clean the Handballs regularly during the activity
If you must return another person's Handball from a different group, then kick it back
Scottish Handball Association will continue to follow government advice. Timings of any changes to the circumstances for handball will always be led by government advice during the Covid-19 restrictions. We would encourage everyone to firstly consider the health and themselves and others. 
Handball Outdoor Activity for Children
Organised outdoor sport specific activity can now be undertaken by children and young people.
All clubs providing children's activity must abide by relevant SGB guidance and have a named 'Covid Officer' who will complete documented risk assessments and ensure all appropriate mitigations are put in place by the club before any children's outdoor activity is undertaken.   
Physical distancing
Children aged 11 years and younger are not required to physically distance, as set out in Scottish Government guidance.    This extends to organised sports activity and the field of play.  We recommend that the maximum size of group is 20 and the duration of the activity is 60 minutes. This will allow for 5 v 5 practice matches between the children. You should try to keep the same group of 5 children together throughout including when warming up and practicing passing.
For older children aged 12-17 a 'field of play bubble' can be created during organised sports activity that allows contact whilst the activity is taking place, in effect suspending physical distancing guidelines for the duration of the activity.  Normal physical distancing guidelines will however apply before and after the activity takes place.  We recommend a maximum group size of 14 to allow a 7 v 7 practice match to be played. 
Coaches and other adults supporting organised activity should attempt to keep physically distant where possible, but it is recognised that this will not always be possible. In such circumstances the club 'Covid Officer' should consider appropriate mitigating actions as part of the risk assessment.
Risk Assessment Template and other materials available from sportscotland:  https://sportscotland.org.uk/covid-19/getting-coaches-ready-for-sport/
Parents/guardians who are supervising their children should abide by Scottish Government physical distancing guidance and stay at least 2m away from those out with their own household.  Groups of parents from different households should not congregate before, during or after the activity.  The club should ensure that a drop-off and pick-up area has enough space to allow social distancing between parents/guardians.
Updated exercise guidelines
You should follow Scottish Government guidance on health, physical distancing, and hygiene.  Information on the Scottish Government's approach to managing covid-19 is available at www.gov.scot/coronavirus-covid-19/ .
This document provides some general guidelines to be followed alongside government advice for training outdoors.  Each person is responsible for their own personal hygiene.
Before Exercise:
Stay home, if you feel sick, even with mild symptoms
Check for COVID-19 symptoms every day
Check body temperature daily
Stay home if anybody in your household presents with symptoms
Stay home if anybody in your household has been tested positive (at least 14 days)
Risk assessments should be carried out and documented for all activities and facilities. Consider safety first, particularly minimising the risk of infection/transmission. Appropriate measures must be put in place to ensure participants are protected.
Check travel guidelines and plan your journey accordingly
Come dressed for exercise and bring your own Handball
Clean all equipment (Handballs, Goals, Markers) prior to and after use.
During Exercise:
Keep distance of 2 metres to persons from outside of your household
Do not shake hands with anyone
Cough and sneeze into the crook of your elbow
Perform adequate personal hygiene such as washing your hands regularly
Spitting is not allowed at any point
Clean Handballs regularly during the activity
After Exercise:
Clean your hands with sanitizer
Leave immediately after the activity has finished
Change and shower at home
Clean all your equipment (Handballs, Goals, Markers) after the activity
Facilities
We recommend that you use an outdoor space that is safe and away from other members of the public such as a park or playing field
Prepare for activity with equipment ready and in the right place aiming for there to be no contact for participants with doors, gates, fencing, and goals wherever possible.
If you are using a pop-up goal, ensure that the same person puts it up and takes it down
Hand sanitisers should be made available where possible, but the participants should be encouraged to bring their own
At all times, participants should adhere to the Scottish Government's social distancing guidelines of staying at least 2m away from others. Scottish Government guidelines are available at: gov.scot/coronavirus-covid-19/ .
A maximum of 15 participants are permitted to ensure appropriate social distancing can be maintained
Health, Safety & Hygiene
Cleaning of handballs, goals, hand, and respiratory hygiene are core measures to be implemented and provision should be made for these.
Clear guidance and plans are needed for cleaning of equipment, and waste disposal. For instance, common touchpoint surfaces (gates, door handles, handrails etc) should where possible be left open but if not possible, regular cleaning with disposable gloves should be undertaken.
Detailed guidance is available at:
www.hps.scot.nhs.uk/web-resources-container/covid-19-guidance-for-non-healthcare-settings/
www.gov.uk/government/publications/covid-19-decontamination-in-non-healthcare-settings/covid-19-decontamination-in-non-healthcare-settings
www.hps.scot.nhs.uk/a-to-z-of-topics/hand-hygiene/ 
Travel
Scottish Handball Association is currently working in partnership with sportscotland and Scottish Government to provide up to date and relevant guidelines to all our members. When we receive new or updated information, we will ensure this document is updated and our members are notified promptly.